Electives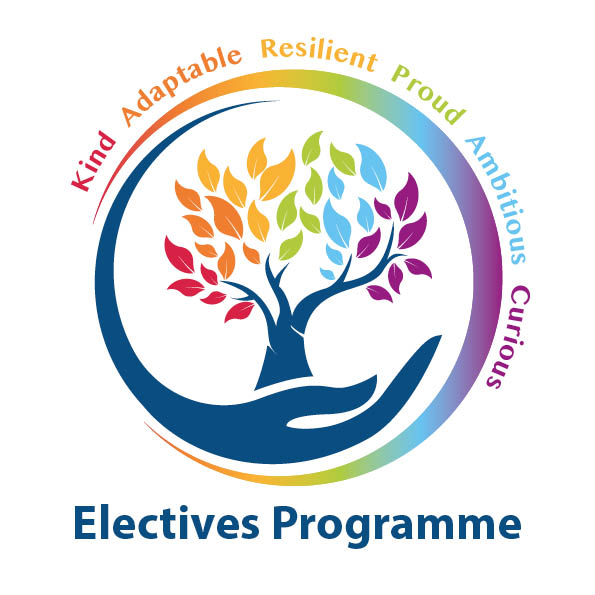 The Electives programme is an important part of our enrichment curriculum which supports the development of the student attributes outside our academic curriculum. We have a huge array of Electives on offer from Arts to philosophy. This is a dynamic offer where we change the options depending on the feedback and recommendations of the students. For a taste of what these elective are about see below.
At all stages, students opt for 3 elective courses which they will complete over an academic year
Stage 1
Stage 1 occurs for our Year 7 and 8 students each week on a Wednesday 3.05-4.05 in mixed year group classes and is part of the students' timetabled day.
Master Chef – " I enjoyed making pizza.. I liked planning the recipes and then making the food, it made me think about what I was doing. From the skills I learned at the Elective I have gone on to cook at home. I think it has helped me become more independent and might help me when I go on to university …where I will need to cook all my own food!.
Performing Arts – " I enjoyed this Elective as I am taking Drama, learning the Ukulele is something I wouldn't have normally done, I had never played an instrument before, but my mum and been in the jazz band so I wanted to try something that was going to be a real challenge. I really enjoyed it and was able to play quite a few chord at the end. I had to be really resilient and practice as I had been quite ambitious in my quest…..I would like to probably continue with it".
- Imogen Year 9 - Dec 2022
Expedition- "We have been developing out navigation skills, learning how to use a compass and …..about how to use maps to understand contours and height gains … planning the best routes to climb Snowdon. I did the Exe Valley Challenge last summer and if I had had these skills I would have been so much better at it! I am planning to do Duke of Edinburgh and Ten Tors in future so this will give me the skills I need for this. The best thing we have done so far is doing blindfold directions to learn compass points. We had to use our communication skills and directions to guide our partner around a course. I think I have used my adaptability the most in this Elective"
Criminology- "We were doing different investigations…. We looked at Jack the Ripper. I really liked it as it was something really different that I chose to do. It has made me think and it might be something I could look at as a possible career?....This really stimulated my curiosity…. Looking at the different cases …."
-Sophia Year 8 - July 2022
Italian- " We had to use the language to break the code …find out what the Italian word is to move to the next level. I would not normally have chosen Italian but it was something different, ….outside of my comfort zone. The best bit has been watching the Italian movies (in Italian) ..like Pinocchio. I have used my resilience skills to try to keep up with the demands of learning a new language.
Design Technology- "We really enjoyed making the speaker cases that we could put our phones in. We learnt how to use different types of technology, it's very practical …we get to use all the equipment. It's different from what we get in our lessons. You have to be good a problem solving and quite resilient as things break quite easily and you have to work around it. We have to use some technical skills like drawing… we plan and design what we want to make. We follow the whole design process. From my experience in the Electives , I might consider taking DT as one of my options
-Jensen Year 7 - June 2022
Stage 2
In Stage 2 .Year 9 students have lessons on Tuesdays 3.05- 4.05. There is an opportunity for students to do their Bronze Duke of Edinburgh Award or build on the student attributes developed in stage 1.
I chose to do DoE to expand by skill set and to motivate me to help my community. I really enjoyed team Building and the coordination games with the island. This programme has made me much more self motivated and i have become a driven person. For the volunteering, I have been working in a charity shop. i haven't had job before and it was great to learn about how retail works and the charity element. I would highly recommend DoE to anything looking for a structure programme which is recognised around the world. I have learnt so many key skills and worked collaboratively with others.
-Evie Year 9 - December 2022